THE UNTOLD STORY OF FRANK EDGE JR (Day 12 Production)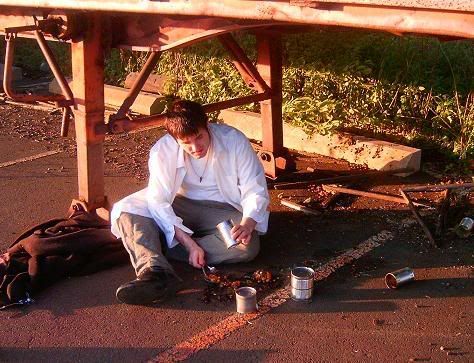 Last week was strong on the elements of water and mud. This week was all about blood/guts/food. Pretty much a skeleton crew of about 2 people. Myself included. 3 scenes to be shot. Two of which were to take place in a kitchen type location. However, at last minute, that got pulled and I made the decision to shoot the scene in the abandoned tractor trailer yard. yeah that was all well and nice till we actually got there to find out they hauled off most of the trailers. Two remained. 1 locked tight like a virgin and other sitting middle in the thick of some overgrown bushes. All that tripe to come later. Shot from 1:30pm to 3:50pm with Keith and myself. Then resumed at 4:30 to 7:15pm with Thomas "Rubin Card" Stevens and Keith.
("X" meaning it was a scene not originally in the script but needed to be shot or written in to explain something i completely forgot to mention or needed to flesh out with details.)
SCENE X1: Frank's Acid Flip Out. Slaughter the Ben.

After eating poisonous food. Frank has a violent reaction with some hallucinations. He sees his snuff dealer as one of the phantom "Bens" and guts it without question. Gory, chunky madness. This scene is the gutting sequence that takes place in an unknown location, within Frank's fucked up head. A dark place where he is confronted with a Ben and a lot of knives.
NOTE: Needed an extra person to play a Ben but we made due by me stepping in to do a one on one wide shot. This had some rather messy moments. Dealing with guts is like playing with paint, even water if you wanna realize how uncontrollable this shit can get when you try to handle it. Fake torso and lots of footage. Cheap buys. Kidneys. Brain. Livers. With some fake blood. Great look. I wanted the room dark since this scene comes in the middle of Frank's on site flip-out. Taking place in his head.
Originally written as Frank going crazy and butchering his snuff dealer in a sorta drug induced rage. Problems were more in the filming aspect and execution of the scene. The problem. On-location filming in someone's nice kitchen that we couldn't get messy whatsoever while not compromising the scene and it's point, it became clear that there was no way to pull off the gutting sequence on-location. Couldn't bring guts or the nasty happenings into a nice house. So this sequence replaces the snuff dealer being gutted with a Ben being gutted in a different, unknown location due to the bad food. Worked out better because I got to play with lighting and go wild. Alison Horn stepped into some brains and got mad. She wants a bike.
THUS this rewrite scene was born so that it edits into the overall main sequence which is SCENE 72.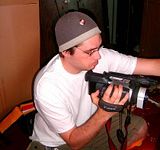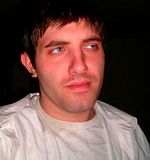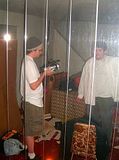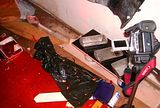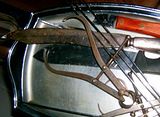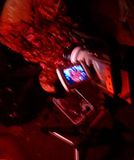 SCENE X2: Drugs and Snuff

Frank visits his local drug dealer/snuff tape dealer. Quick transaction.
NOTE: I wrote this in there for a better set up on how, who and where Frank gets his drugs and snuff from. And to add a little more to the opening of the film. Just some information. Expository footage! This location sucked. Getting to atleast. Last time we shot here was last year and to my knowledge all the abandoned trailers were still there. Not today. The only useable container was balls deep in some growth. Had to hack a path to thing. The wooden floors were eaten to shit by termites. The ceilings riddled with old wasp hives. Good for the look but kinda "What the hell am I doing in here?" as far as location and filming go.
So we started shooting this footage after a long hour break in the day because Thomas is a vampire and doesn't like the sunlight. Probably didn't resume filming till 4:45ish. Lucky for all involved. Tom can pretty much nail his shit in one take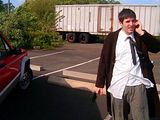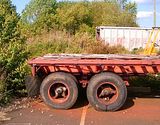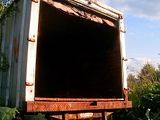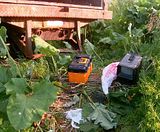 SCENE 72: Frank Scavenging for food and Getting Serious Food Poisoning.

Frank with a few coins in his pocket visits his snuff dealer in search of drugs and food. Inside the old storage container, Frank finds some dented cans of various label-less food. While sitting alone eating the spoiled food. Frank has a twisted freak fit which ends in him killing his dealer.
NOTE: Simple dealings in the trailer. Splash some blood around. Play dead. That was the first part since the "gutting sequence (X1)" intercuts to the first half of this scene where we see Frank actually opening and eating the contents in the cans. Just a lot of dollar store canned meats. Spam! Chili. Tomato sauce. Then i needed some hardcore fucked up food which was to poison Frank.
Making these "tainted cans" was a fun experiment. Took 4 empty vegetable cans, filled them with color dyed meat and vegetables, added some beans, bread crumbs and topped it off in jello (in liquid form so that when solid would form to the food and can) which I placed in the fridge. The end result was this sludge like shit plopping out of a can in massive disgust.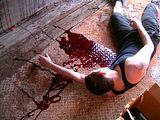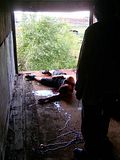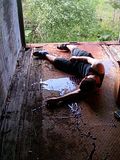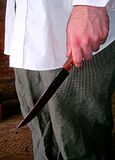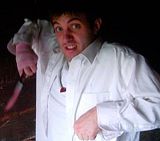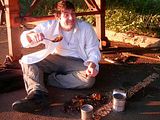 The film is slowly coming to a close for Keith Miller whereas there is a lot of filler footage to be shot, namely the actual snuff footage which is gonna be fun. Chasing people around with a hi-8 camera. Should be editing by the end of the month. Something I not going to rush but rather experiment and fuck around with. I've created a great deal of puzzle pieces and how and where I choose to put them in nice. VS the amount of editing that Below Man was, working with over 100 dvtapes and many edits and things to cut. This film is much more contained and structured towards a more free-handed experimental editing style and storytelling theme. BUT we shall see.